PRIVATE RETREATS IN MY STUDIO IN NJ / 1 - 5 DAY
Fee: $250 per day Come with a friend and save 20%
Private/semi private classes are available here in my studio in NJ in both weaving and sewing.
Private or semi private Instruction in my studio in NJ, $40.00/hour or $250.00/day per person which includes room and board with airport pickup from Newark Liberty. Private room for sleeping with shared bath. One to five day or longer classes available. Note: Housing available for up to two students at a time. Come with a friend and save 20%. Studios and bedrooms are not 'accessible', there are stairs for everything. This is a 125+ year old house, with gardens, ponds and decks, in a walkable town, about a 35 minute bus ride to Manhattan. We have animals, two large dogs and a cat. Though they are not permitted in the guest rooms, they are allowed in the studio and frequently hang out there. Please contact me for more specific information. Note that the $250 a day includes airport pickup and dropoff, housing, all meals, and any support materials you might need. All you need to do is bring whatever it is you want to work on. Vaccination for Covid 19 is required.
LEARN TO WEAVE ON A FOUR SHAFT LOOM / 1-2 DAYS
Explore this time-honored craft, on a loom that allows patterning and play. Designed for beginners, using a 4 shaft table loom, and using colorful carpet warp, this workshop will take students through the warping process and teach them to understand patterning, reading a draft, color interaction, and how to weave a competent cloth. Plain weave, twills, rib and basket structures, and color and weave will be covered. In a one-day class, 6" wide x 1 yard warps will be pre-wound.  In a two-day class, participants will wind their own 8" wide x 2 yard warp for two days of play.  Participants will be taught to dress the loom from the front to the back.
Note, for those within driving distance who have their own table loom, you may bring your own loom to work on. Prospectus
BUILD YOUR OWN FIBER ADVENTURE!/ 1-5 DAYS
Attention all artists, art students, and educators, or anyone who wants an overview of basic techniques in fiber; this is the class! Build your own agenda, pick two from the following offerings for each day of class.  Options include the basics in spinning on a drop spindle, microwave dyeing with food grade dyes, needle felting, wet felting, plaiting, inkle loom weaving, speed tapestry weaving, kumihimo braiding, bobbin lace, and weaving on a 4-shaft loom. Choose a five-day retreat to experience them all!  All techniques are explained on the most basic level, plenty of handouts, plenty of opportunities to explore fiber as an art form! All supplies and equipment provided. Prospectus
CUSTOM FIT AND FABULOUS: CREATE A PATTERN CUSTOM FIT TO YOU / 2-3 DAYS
If getting things to fit is an issue for you, then come and spend 2-3 days doing nothing but fitting patterns.  Choose patterns from the Daryl Lancaster Pattern Collection https://www.weaversew.com/shop/sewing-patterns.html or commercial patterns of your own.  Learn to custom fit for your individual figure.  Some simple flat pattern and drafting skills will be taught in this workshop.  Expect to leave with at least two finished patterns or more, depending on how many days you choose.
Pattern tracing medium will be provided. Expect to bring a couple of old sheets for a test garment and whatever patterns you would like to work with.  Patterns from the Daryl Lancaster Pattern Collection are available at no charge.  All other supplies are provided.
WEARABLE EXTRAVAGANZA: Garment Construction Intensive Retreat / 3-5 DAYS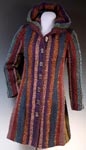 Offered as a multi-day private or semi-private retreat in my own studio in NJ, this is a terrific opportunity for those wanting to learn to fit and sew clothing from their handwoven, hand printed, dyed, quilted, felted or just commercial fabric, as well as for those more experienced students wanting polished and professional results. Participants get to set their own agenda.  Use patterns from the Daryl Lancaster Pattern Collection or bring your own pattern. https://www.weaversew.com/shop/sewing-patterns.html
Expect to create one garment per three days of class, depending on the complexity of garment design and fabric choice.  Linings, complex collars, welt pockets, bound buttonholes, hand dyed warps, and complex weft patterning will all take additional time.
Participants only need to bring their fabric, any linings or trim, matching thread and their favorite sewing tools.  All other tools and equipment will be provided, including interfacing and pattern tracing medium.  Janome sewing machines available. Prospectus
DESIGNING AND WEAVING HANDWOVEN YARDAGE / 5 DAY RETREAT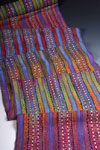 Improve your basic weaving skills and learn to work with the loom and create beautiful flawless yardage suitable for garments or household textiles.  This workshop will give participants a chance to design, warp, and weave 4-5 yards of fabric using mixed yarns of various colors and textures. Color use and design wraps will allow for creative design. Repeats will be explored along with an introduction to weaving software. Weavers will learn to combine structures on eight shafts including supplemental weft.  We will be warping from front to back. Prospectus