GARMENT GALLERY 2022-202*
CHAOS SHIRT
2022
Warp from handpainted cotton, rayon, bamboo mixed skeins, MX Fiber Reactive dyes. Additional rayon floss and ribbon supplemental warp. Weft rayon mill end. Combination plain weave, twill, and supplemental warps on 8 shafts. In-Seam Buttonholes, linen trim
Draft and design notes are available for purchase as a download here.
Shirt pattern a combination from the Daryl Lancaster Pattern Collection, #1000 Swing Dress + # 700 Tunic
AUTUMN PLAID TUNIC
2022
Handwoven plaid from hand dyed wool and mohair yarns. Twill. Drop Shoulders, shirt tail hem, kangaroo pocket, and hood.
Tunic pattern from the Daryl Lancaster Pattern Collection, #1700 Drop Shoulder Tunic
SPRING RAIN PIECED DRESS
2022
Dress created from pieced together scraps from handwoven production fabric from the 1980's. All pieces were woven on the same rayon and cotton warp, different rayon and silk wefts. Scraps were fused onto a nylon tricot backing and trimmed with bias tubes from rayon from bamboo. Back zipper and side pockets.
Dress pattern a combination from the Daryl Lancaster Pattern Collection, #1000 Swing Dress + #200 Jacket (armholes and sleeves)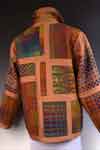 DOUBLE WEAVE PATCHWORK JACKET
2022
Completely reversible jacket from a double weave sampler woven in a Jennifer Moore Rainbow Double Weave workshop. 8/2 Tencel warp and weft. Double weave panels are sandwiched between two layers of silk and wool, and wool suiting. Panels are attached between the layers of suiting with reverse appliqué hand stitching. Garment is constructed almost entirely by hand. Jacket pattern is a combination from the Daryl Lancaster Pattern Collection, #800 Vest + #1700 Tunic (armholes and sleeves)
Inspired by a poster from a Magical Puzzle Company puzzle called The Busy Bistro, the yarns are all handdyed with MX and Procion fiber reactive dye. Mixed cellulose, rayons, cottons, Tencel, rayon from bamboo, and some silk. Weft is 12/2 wool. Handwoven combination structures, plain weave, twills and variations, basket weave, and supplemental warps on 12 shafts. Caviar leather trim, acetate and rayon jacquard lining. Pockets. Pattern from the Daryl Lancaster Pattern Collection, #600 Walking Vest
Mixed warps, rayons, cottons, Cottolin, rayon from bamboo, Metallic, handdyed with MX Fiber Reactive Dyes. Some variegated hand dyed skeins and a Kathrin Weber Blazing Shuttles hand painted carpet warp (large aqua tones stripe). Handwoven combination structures, plain weave, twills, and supplemental warps on 8 shafts. Recycled sandwashed silk accents. Pockets. Pattern adapted from the Daryl Lancaster Pattern Collection, #900 Bias Top